About Us
CyberLogitec empowers the global supply chain with innovative technologies that addresses operational challenges, improve visibility, and meet industry demands. As a global leader in the maritime, port and logistics industry, our flexible, end-to-end solutions and consulting services help the industry adapt quickly to evolving needs of the market.
For more than two decades, we have worked with shipping lines, terminals and logistics providers to optimize their business operations and processes through modern, integrated platforms. We lead the way in automation, communication and collaborative tools that improve customers' overall efficiency, competitiveness, productivity and service.
Harnessing the synergy of our group of global network, we are focused on strengthening our capabilities as we bring our business closer to where the customers' needs are. We are constantly guided by our core values to provide sustainable solutions for our customers.
CyberLogitec is committed to providing flexible end-to-end solutions and business consultation, because we understand that optimizing operations is important for productivity and service delivery.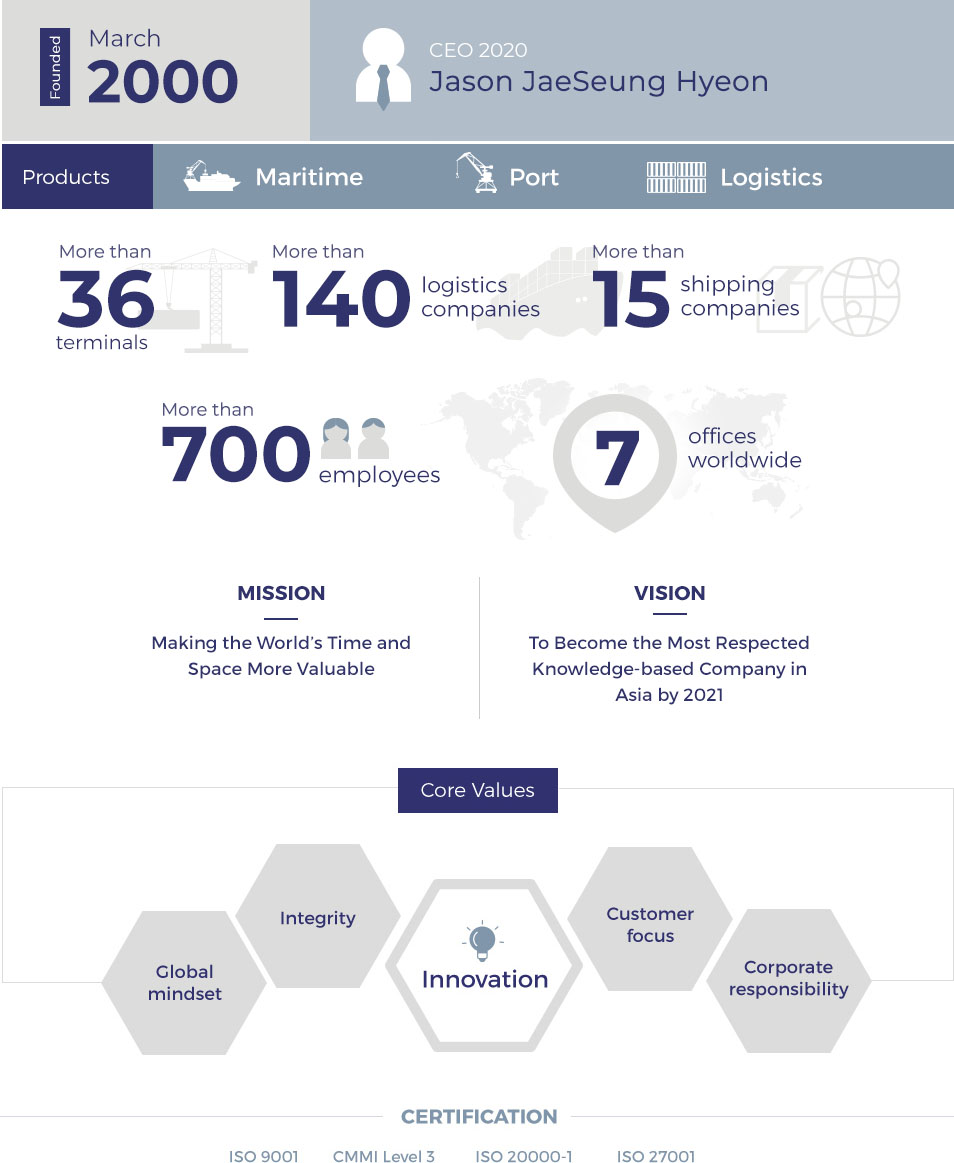 Global Footprint
CyberLogitec Global

SINGAPORE

460 Alexandra Road #15-01 mTower, 119963, Singapore

TEL +65-6274-0576

FAX +65-6274-0580

Email: sales@cyberlogitec.com

CyberLogitec South Korea

SEOUL

16th Floor, Nuritkum Square R&D Tower, Worldcup-bukro 396, Mapo-gu, Seoul, 03925, Republic of Korea

TEL +82-2-6350-2000

FAX +82-2-6350-2050

Email: sales@cyberlogitec.com

BUSAN

15th Floor 1508-1511. Centum Skybiz A Tower, 97, Centum jungang-ro, Haeundae-gu, Busan, 48058, Republic of Korea

TEL +82-2-6350-2000

FAX +82-51-440-1810

Email: sales@cyberlogitec.com

CyberLogitec America

CALIFORNIA

17777 Center Court Dr. N, Suite 510, Cerritos, California 90703

TEL +1-201-977-4600

FAX +1-201-977-2878

Email: info.cla@cyberlogitec.com

CyberLogitec China

SHANGHAI

Room.513, Dongdaming Road No.1050, Hongkou, Shanghai, 200082, China

TEL +86-21-5200-4105

FAX +86-21-5200-4110

Email: clc@cyberlogitec.com

CyberLogitec Spain

ALGECIRAS

Red Logística de Andalucía, Área Bahía de Algeciras Edf, de Servicios Oficina B006, Área de El Fresno 11370, Los Barrios, Cádiz, Spain

TEL +34-956-688-307 (Extension 1060)

CyberLogitec Vietnam

HO CHI MINH CITY

SCETPA Building, 19A Cong Hoa Street., Ward 12, Tan Binh District., HCMC, Vietnam

TEL +84 (28) 3813 2967

FAX +84 (28) 3813 2969

Email: sales.vn@cyberlogitec.com
Watch our video on Youtube
For more information of our products and services
History
2017
Established CyberLogitec Global Pte Ltd
Launch of ALLEGRO
Launch of CARA
2015
Launch of OPUS Logistics v1
2014
Launch of OPUS Terminal v3
Launch of EAGLE EYE
Launch of OPUS Forwarding v4
Launch of OPUS Warehousing Management
2013
Launch of OPUS Terminal v2
Launch of OPUS Container
Launch of OPUS Forwarding v3
2011
Launch of OPUS Forwarding v2
2010
Launch of SmartLink services
2009
Established CyberLogitec Spain S.L.U.
2008
Established CyberLogitec Shanghai Co., Ltd
Launch of OPUS Forwarding v1
2007
Launch of OPUS Terminal v1
2001
Established CyberLogitec America Inc.
2000
CyberLogitec Co., Ltd, South Korea
Delivered its first customized TOS solution