Smart Safety Technology: Elevating Actionable Visibility in the Yard
Safety. it is indisputably among the most important topics when talking about maritime and terminal operations. A necessary and essential cornerstone to successful terminal management, safety optimizes efficiency which in turn optimizes productivity.
Indispensable and inevitable
As terminals and ports become increasingly complex, multi-modal hubs for worldwide trade, their vulnerability to operational risk also increases and grows more complicated by the day. Safety-related issues due to lack of transparency and liability claims from workers' injuries can swiftly create a melange of costs to whittle away your bottom-line, from disruption of operations and unbudgeted repairs to pricier insurance and even reputational damage.
With growing fleet diversity and every shipping procedure part of a long and multifarious chain, maximizing visibility is paramount to achieving the highest standards of safety best practices in your port operations. All aspects are critical, from facilities maintenance to the tracking of vehicular and cargo details both land side and maritime side, with resultant data captured in a timely, accurate and easily visualizable manner.
A large percentage of safety incidents in terminals is due to human error arising from carelessness or worker fatigue. To overcome this, safety technology has become an essential aspect of terminal operations technology.
Elevating actionable visibility
Smart technology can be a crucial game-changer in improving safety and productivity for terminal workers. The right technology elevates operating visibility and safety in many areas, from automating asset utilization and monitoring usage parameters to pre-emptive scheduling of predictive maintenance and setting system parameters for auto-identification of anomalies on the yard.
How do you pick the right to enhance your safety practices? We list four areas to assess in selecting a solution that best serves your needs.
Centralized multi-cargo control
Modern solutions are able to handle container operations and a range of varied cargo types including breakbulk, project and bulk cargo as well as RORO, in a single system. This enables the centralization of cargo management across various types of storage facilities and dynamic evaluation of options and criteria. With improved control, responsiveness and visibility, potential security risks or non-compliance with port safety and health regulations can be quickly identified and addressed.
Automated transmission for remote monitoring
Built on the concept of interrelated devices or objects, IoT has swiftly expanded its applicability in automating processes in multiple industries. The value of IoT shines brightest in monitoring potentially hazardous environments where manual checks are unable to provide similar consistency. IoT enables automatic transmission of tractor, yard crane and STS container crane movement information directly to the control room. This makes it easy to identify equipment or vehicle breakdowns, detect vehicle movement proximity and minimize collisions, fires or explosions, from a safe distance.
True depth visibility for just-in-time deployment
Detailed visualization of cargo and yard operations is one of the most exciting and technologically-forward capabilities offered by modern TOS today. The ability to extend existing terminal infrastructure and equipment with sensors based on mobile technologies has created new levels of worker safety and visibility for cargo and vehicular flow. Crane operators are able to control container movements without needing to be on site, and just-in-time cargo transfers and vehicle deployment elevates safety for vehicle drivers.
Network-integrated safety management
Sharing information across ports has become the new standard in today's operating context. Between partners, data such as arrival and departure times and shipment details can now be shared through modern browser and cloud-based TOS. This real-time information accessibility across locations and shared end-to-end visibility for all partners within your network empowers swift identification and resolution for operational or safety issues owing to equipment or manpower downtime.
The maritime industry is increasingly recognizing the inevitability of digitalization in driving innovation for better safety technology. Applied wisely, the right software can help you raise your competitive advantage through enhanced yard safety and more strategic visibility across your operations.
Next-generation terminal safety
CyberLogitec leads the market in defining and delivering the next generation of safety technology in terminal operations. Our Opus Terminal M SaaS solution is designed to meet the diverse needs of today's multi-modal, multi-cargo and multi-terminal ports. Available both on-premise and cloud-based, Opus Terminal M comes with real-time 3D Smart Vision filter and zoom capabilities to view cargo properties and manage yard operations so you'll have 100% visibility at all times.
Opus Terminal M: Cutting-edge actionable visibility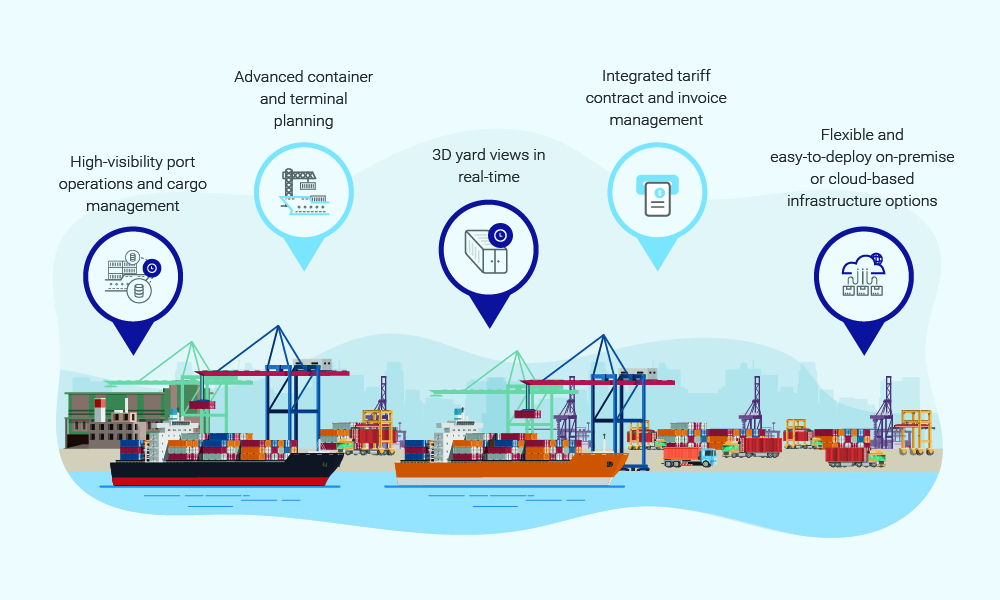 Experience true actionable visibility for your yard operations today. Discover Opus Terminal M now .