OPUS Logistics by CyberLogitec Helps More Than 1000 Logistics Operations Managers to Expedite Cargo Flows
CyberLogitec's Cloud-based, SaaS solution is the right choice to improve operations for more than 150 global logistics service providers
Cerritos, CA, USA – February 26, 2020 – CyberLogitec, the leading provider of maritime, port/terminal and logistics operations technologies, today announces that OPUS Logistics is the solution of choice for more than 150 freight forwarders and logistics service providers.
As logistics service providers from the USA to Asia Pacific strive to meet customer demands to quickly move cargo, while reducing costs, OPUS Logistics is increasingly becoming the technology of choice to help them achieve their goals.  Over the last 24 months, CyberLogitec America has seen its regional logistics customer base grow to more than 1000 users at 150 logistics companies.
In a recent customer survey conducted on behalf of CyberLogitec America by TechValidate, companies are choosing OPUS Logistics because of its flexibility, extent of advanced functionality, cost-effectiveness and usability. In addition, logistics companies chose OPUS Logistics to improve shipment visibility, integrate operational processes into one system and to become more flexible in their processes. 63% of the customers have improved response time to exceptions by at least 50% and 67% have improved the efficiency of ocean and air rate management and bookings by at least 50%. 91% of the OPUS Logistics users surveyed would recommend the system to other logistics companies.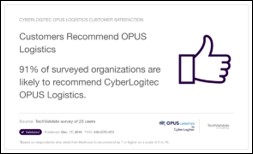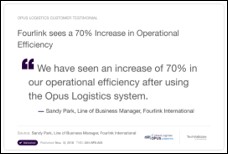 CyberLogitec has new logistics features in development to improve supply chain visibility, including customer, vendor and sales portals. This will improve partner collaboration across the supply chain ensuring data integrity, giving shippers more insight into their cargo flows.
"CyberLogitec America is happy to see the positive impact that OPUS Logistics is having with freight forwarders and other logistics companies in the region. We look forward to continuing to influence the supply chain as our solutions develop. It is important for us to offer logistics freight forwarders access to the benefits of digitalization at a cost-efficient price point, while extending how the solution can be used by our customers now and into the future," says Bill Peterson, General Manager, CyberLogitec America, Inc.
CyberLogitec Americas delivers all of CyberLogitec's supply chain technologies in the region, with 24/7/365 support to help customers get the most efficiency from their solutions.
Visit CyberLogitec America at TPM | El Dorado Technology Conference, Stand 12
CyberLogitec Americas will be showcasing OPUS Logistics and other CyberLogitec supply chain technology solutions and services at the upcoming TPM | El Dorado Technology Conference, March 1-3, 2020, at the Long Beach Convention Center.
Visit us to see a demo of OPUS Logistics and don't miss our session, 2020 Supply Chain Disruptors & Technology Enablers, on Monday, March 2, at 4:10pm in the El Dorado conference.
 For more information, visit www.cyberlogitec.com
Media contact:
Cherie Mah, Marketing Manager, CyberLogitec Global
email: cherie.mah@cyberlogitec.com
Michelle Gaubert, CyberLogitec Americas
eMail: mgaubert@cyberlogitec.com 
About CyberLogitec
CyberLogitec empowers the world's supply chain with advanced technologies that solve operational challenges and meet the exacting demands of our industry.  From maritime shipping operations, port and terminal operating systems to logistics forwarding and warehouse management, our integrated solutions help your business respond swiftly to changing operational needs. Our technology's advanced algorithms digitize and automate data exchanges to improve efficiency, competitiveness, productivity, and service, no matter which part of the global supply you operate within.
CyberLogitec America, Inc., or CLA, is a wholly owned subsidiary of CyberLogitec. The CLA team is focused on delivering and supporting CyberLogitec technologies within the Americas region, including OPUS Logistics for freight forwarders, Allegro for regional shipping lines to manage operations, and, for regional container terminal operators, IT infrastructure managed services and project based consulting including gate-systems, data and EDI management.