Hanjin Shipping's Busan New Port Terminal opens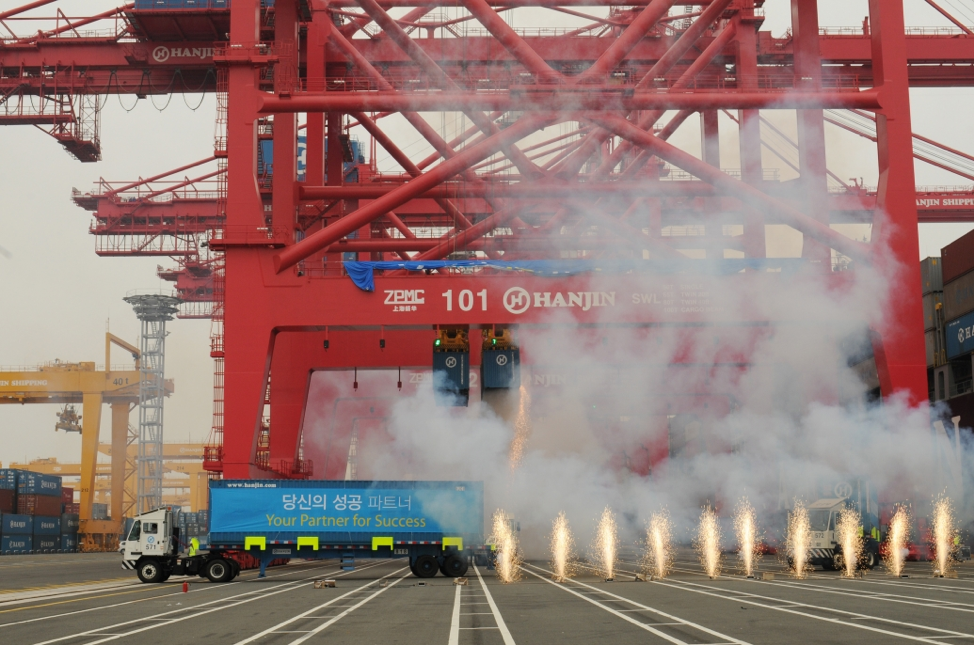 Hanjin Shipping has announced that its Busan New Port Phase 2-1 Terminal has officially opened. Hanjin Shipping's Phase 2-1 Terminal sits on an approximately 687,590㎡ of land with 3 berths 18m deep to accommodate 3 of 12,000TEU class vessels at the same time.
Especially, in cooperation with Hanjin Shipping's logistics IT specialist, Cyberlogitec, Busan New Port Phase 2-1 Terminal introduced the world's first automated horizontal yard crane system, which made it possible to operate approximately 200 vessels with 200,000 TEUs of cargo for the last 3 months since the first voyage of Hanjin Los Angeles on February, 6th.
Currently, Hanjin Shipping's Phase 2-1 Terminal has a total of 18 weekly services including 14 run by CKYH (Coscon, "K"Line, Yang Ming and Hanjin Shipping) and 4 feeder services by STX Pan Ocean, KMTC, Heung-A Shipping, etc.
According to Hanjin Shipping's subsidiary, Hanjin New Port Company, which operates Busan New Port Phase 2-1 Terminal and is preparing to run Hanjin-Kerry Logistics Center and Busan Gamcheon Bulk Terminal, they will continue their efforts to attract more business in order to reach their target of 1.6 million TEUs by 2010 and 2 million TEUs by 2011.
Giving a speech at the opening ceremony, Eun Young Choi, the Chairwoman of Hanjin Shipping commented, "I hope Hanjin Shipping's Phase 2-1 Terminal will contribute to promoting Busan New Port to a state-of-the-art hub port of Far East Asia."
CyberLogitec is a professional IT company that offers total solutions. It develops and builds solutions for such fields as shipping, port, and logistics and also provides consulting and IT outsourcing services. The company is expanding its business by using its overseas business network that covers the US, Europe, China, Japan, and Southeast Asia.