Busan New Container Terminal Selects CyberLogitec OPUS Terminal Solution
05 March 2019, Korea – Leading maritime, port/terminal and logistics information technology (IT) solutions provider CyberLogitec, signed an agreement with Busan New Container Terminal (BNCT) to implement the highly-integrated terminal operating system, OPUS Terminal, at Busan New Port Terminals. With the OPUS Terminal solution, BNCT will experience an improved competitiveness, from a simplified operational workflow, increasing their ports efficiency, productivity and response agility. The OPUS Terminal solution is exceedingly flexible and scalable, allowing BNCT to meet the future needs of their terminals.
"By signing this contract," said John Elliott, BNCT's President and CEO, "I am excited to secure a great partnership with CyberLogitec and future for BNCT. I am especially grateful for the huge effort invested by both BNCT and CyberLogitec staff who have conducted a very thorough analysis that enabled us to decide, with great confidence, that CyberLogitec will provide the future terminal operating system for the most advanced terminal in Korea. It is clear to BNCT that CyberLogitec's proven ability will deliver the reliability, system control and operational flexibility that will lead to improvements in our productivity and efficiency so that we can deliver superior services to BNCT's customers over the long-term future."
"A high-performance terminal operating system must have the ability to assist the terminal operators to improve cost inefficiencies, be flexible, scalable and ultimately lead to improved terminal productivity,' said Son-Jeong MIN, Product Manager – Terminal solution, CyberLogitec. "We are committed to promote our solutions competitiveness using business intelligence and leveraging on big data for accurate operation analysis and forecasting. Building on our strong and robust relationship with BNCT, we can drive innovation and efficiency of the terminal operations to create the terminal of tomorrow."
OPUS Terminal is a highly integrated terminal operating system (TOS) that manages the entire terminal operations from gate to yard to ship. The solution's advanced features give terminals the ability to quickly move ships in and out of their terminals. Accommodating the needs of both container and multi-purpose terminals, OPUS Terminal allows the entire operation to be managed under a single integrated platform. This is achieved through combined planning, operation, EDI and management supporting systems. OPUS Terminal has been successfully deployed at more than 30 terminals globally, including mega terminal installations namely DP World's Jebel Ali Terminals in UAE and Westports in Malaysia.
BNCT is an independent full-service container terminal operator with a current capacity of 2.5 million TEU. Claimed as the most advanced terminal in Korea, BNCT can berth up to 3 of the world's largest container vessels simultaneously with its 1,400 meter long deep-water quay, and is equipped with the most technologically advanced assets to support the entire terminal operation.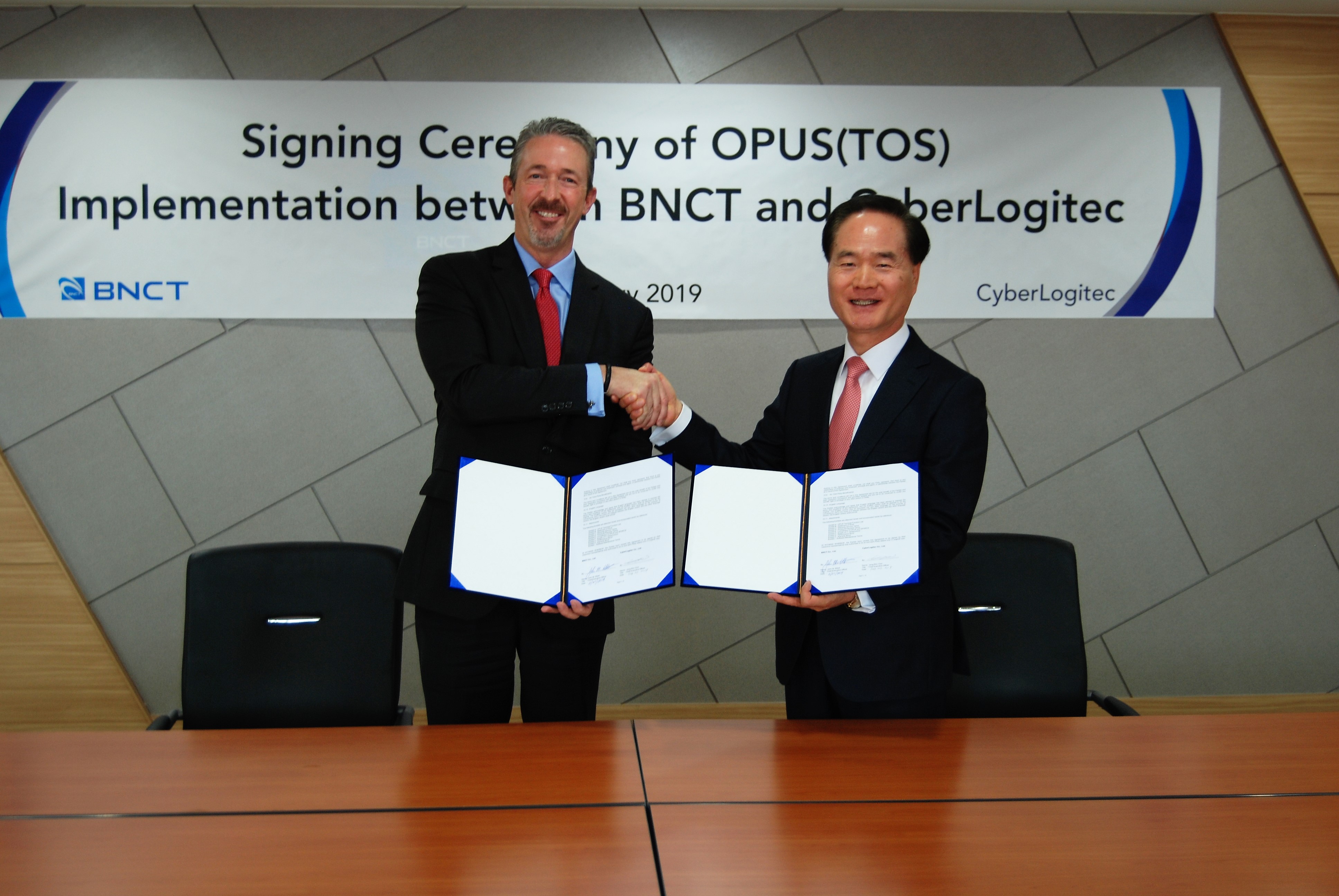 The signing ceremony between Busan New Container Terminal (BNCT) and CyberLogitec was held at BNCT office. 
From left:  John M. Elliott, President and CEO – BNCT Co., Ltd and Jang-Rim Choi, CEO – CyberLogitec Group
For more information, visit www.cyberlogitec.com
Media contact: Cherie Mah, Marketing Manager, CyberLogitec
Contact email: cherie.mah@cyberlogitec.com