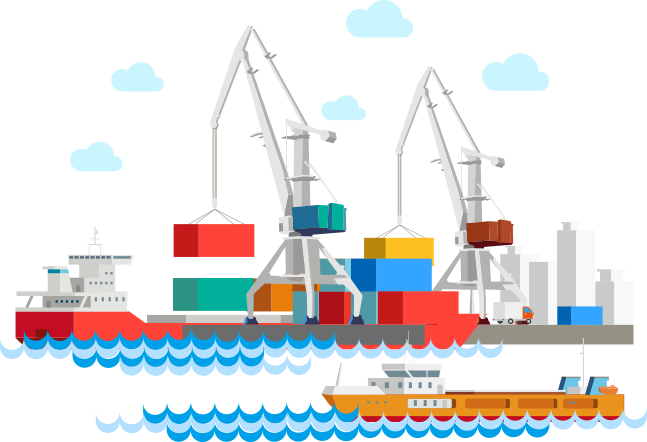 OPUS Terminal is a terminal solution that enables the container terminal's operations including loading and unloading, classification and storage, and flexible responses in newly required terminal works.
With constant growth in shipping transportation volume, shipping carriers have responded to increased volume by reinforcing alliances and the enlargement of the vessels. Terminals have been promoting enlargement and automation for processing larger vessels. It is required to improve infrastructure, automation in equipment, and service improvement as per the expansion of terminal information sharing. Also, it is necessary to achieve high productivity for the punctuality of the vessel. It provides flexible processing in expansion for the terminal business and its related service based on architecture features applicable for business modules unit-wise.
OPUS Terminal supports the entire operations of the terminal as a solitary solution and provides the functions that offer optimization and efficient operation for terminal equipment through a operation analysis algorithm. OPUS Terminal is a next-generation terminal solution that has verified its operational performance level in a mega-size terminal, which has approximately 10 million TEU annual volume along with a fully-automated terminal.
Experience Positive Outcomes
High Productivity

Provide high productivity of vessel by work creation and management with consideration for work efficiency in full terminal operations.

Efficient Integration

Support successful integration between automated equipment system and shipping carrier, port authority, trucking company, and terminal.

Hybrid Operation

Provide all work per terminal's yard type and equipment type with a single solution. Provide hybrid operation in various equipments as per the expansion in the yard area.

Ready to Automation

Support fully from semi-automated to fully-automated with automated horizontal transport.
Capabilities and Features
Optimized Terminal Workload

Execute work orders based on optimized entry-exit container work in the vessel, rail, and gate through TLC (Terminal Logistic Controller) module, which optimizes the overall workload in the terminal. Provides optimized work in equipment and yard and optimized work in entire terminal operations.

Advanced Planning

Minimize the time for freight by using an automated vessel, yard, and berth plan system to which historical analysis of vessel and task and configurable customer pattern is applied. Utilize the real-time updated plan information for the operation.

Container Intelligent Management

Provides a management system based on the characteristics and history of the container. It is a container intelligent management system that enables prompt inquiry into an existing list of containers and costs through customer-wise configurable reports and search functions.

Operation Simulation

Provides the simulation for task workload and yard location as per the automated planning information. Figure out the load point to increase productivity, thereby estimating the workload classified by time, block, and equipment.
Video Highlights
Integrated TOS platform that optimizes terminal operations

Optimizing terminal operating system to simplify complexities

CyberLogitec customer case study - Brazil Terminal Portuário
Learn more about OPUS Terminal Solution

Online
Inquiry
We do not disclose your personal information to third parties.